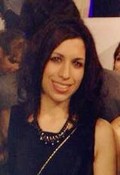 Sara Fernandes , Sales & Marketing at Proactivetur, Lda
Marketing & Communications
http://www.proactivetur.pt
Bilateral Meetings
September 28, 2014 (9h30 - 12h30)
September 28, 2014 (14h30 - 17h30)


We are specialised in ecotourism activities in Algarve, namely hiking tours, birdwatching and cultural experiences. We are working in several day program in Via Algarviana, Rota Vicentina and other places in the region. We have been working with German and Dutch tour operators (ex. Wikinger and Aarts Wandelreisen) for some years and we expect to have more partners. We are also promoting Creative Tourism. In this programs we offer creative and cultural experiences to the clients, namely with artisans (ex. cork, pottary, etc), traditional rural activities and gastronomy workshops. We are also responsable for TASA Project (www.projectotasa.com), promoting traditional craft with design.
Country: Portugal
Organization Type: Company
Organization Size: 1-10
Phone: 967737285
Email: sara.fernandes@proactivetur.pt
City: Loulé ,Rua de portugal nº 35 B Google map
Areas of Activities
TOURISM ACTIVITIES
Active and Nature Tourism Activities
Other Tourism activities
SERVICES AND SUPPLIES
Food, regional products and crafts

Offer
Projecto TASA
The TASA Project - Ancestral Techniques Current Solutions - launched thirty products that combine craft and design, the Algarve tradition, and their materials and techniques, innovation in the proposed solutions, and the use of contemporary taste. This work results from a synergy within a network of artisans from the Algarve holders of traditional knowledge, and designers that incorporate more current solutions, establishing itself as the guardian of a centuries old culture that seeks to be disclosed.

In this catalog (www.projectotasa.com/info-en/), the discipline of design meets craft in order to dignify the products, through aesthetic solutions that give it a contemporary and utilitarian brand, without losing their cultural and ecological character. It's a perfect combination.

We are looking for domestic and international retailers for our new line of products inspired and created in Algarve, Alentejo and Andaluzia.
Cooperation Offered
Other
Cooperation Requested
Sales / Distribution
Offer
Tourism services and creative experiences
We are offering touristic experiences in Algarve, namely hiking programs, birdwatching and cultural tours. We guide and prepare all logistical regarding the tours. We also offer traditional and unique experiences with local artisans, farmers, artists.

We are looking for potential partners that can lead to business alliances.
Cooperation Offered
Other
Cooperation Requested
Other
Sales / Distribution