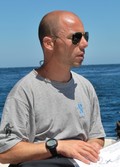 Cristóvão Catarino , Owner/ Scuba Diving Instructor at PuraVida Divehouse
http://www.puravidadivehouse.com
Bilateral Meetings
September 27, 2014 (11h10 - 13h10)
September 27, 2014 (14h30 - 17h30)
September 28, 2014 (9h30 - 12h30)
September 28, 2014 (14h30 - 17h30)

Services and activities PuraVida Divehouse
- Bed & Breakfast
- Dive Camp - Sleep & Scuba holidays
- Scuba Diving courses, all recreational levels up to professional;
- "Try-diving" - Introduction dives in the pool or in the sea.
- Diving Safaris, organized guided tours to some of the most unique underwater landscapes in the world;
- Eco Diving – an ocean connecting scuba experience, where you will explore your own dive site from a kayak;
- Personal Dive Training;
- Kayak and Snorkeling tours to deserted and unspoiled places;
- Bicycles Tours into the secrets of the Natural Park on an unforgettable ride.
- Marine biology workshops;
- Equipment rentals
- Yoga retreats

All our activities include qualified experienced professionals, full equipment and insurance.
Country: Portugal
Organization Type: Company
Organization Size: 1-10
Phone: (00351) 91 321 07 16
Email: puravidadivehouse@gmail.com
City: Sagres 8650-362,Rua da Pedra Negra, Baleeira Google map
Areas of Activities
TOURISM ACTIVITIES
Accommodation
Active and Nature Tourism Activities

Offer & Request
Guesthouse Scuba Dive School and Nature activities looking for tour operators
We are a small company, family managed, with a real sustainable growing potential. We offer unique conditions for active holidays in a place with an incredible average of 300 days of sun per year.
Our Guest house and activity center are located, by the beach on the historical village of Sagres, inside the Natural Park.
Sagres is one hour driving from Faro International Airport, where there are many connections to the main European cities on low cost flights.
We offer unique holiday packages that may include Bed & Breakfast, scuba diving, surfing, kayaking, snorkelling, bicycling and Yoga.
One of most valuable program is the Dive, Bed & Breakfast – One week of accommodation with the Padi Open Water Diver Course. In this holiday package people will get certified for diving, make new friends, get comfortable accommodation in a family atmosphere and have free time to visit the magnificent surroundings, relax or join other activities for a very affordable price.
The house is prepared to accommodate 12 people, in dorms or private rooms in a fully equipped house.
A project in a near future is to use the area available to expand the accommodation in order to provide more beds.
In only one year of existence, we have experienced a quite considerable growth, achieving some of the best scores on online classification.
We want to reach the European customers to offer our products all year round to a growing market of Nature activities.
We are looking for partners that may help us to promote and sell our holiday programs in all European Countries and mostly in England, Germany, Netherlands, Norway, Sweden and Spain.

Cooperation Requested
Sales / Distribution